Kitbashes
Alternate Outfit for Matilda or Jaqueline

You will need: 1 Helicopter flightsuit, 1 bulletproof vest (any black one), 1 pair boots (any), 1 Jackie or Matilda action figure, all her accessories.
Directions: Take the figures accessories off except the black bodysuit, put on the flight suit, put the accessories back on except the backpack and the holsters, put the vest on her, put the backpack on. About the boots: If you pick a male boot, put a wad of cotton in there, slide the foot in, pack more cotton.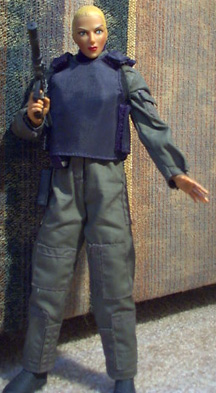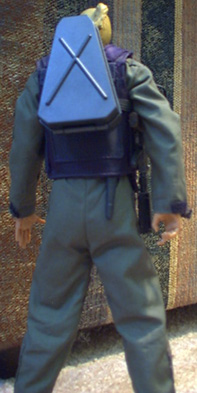 ---

Solid Snake ®

You will need: 1 SOTW SCUBA wetsuit, 1 21st Century SWAT vest, 21st elbow and knee pads, 1 21st Century Climbing harness, Boots (any), 21st Fingerless gloves, Bandana, SOCOM /w Taclight and Silencer, sidepacks (any).

Add any parts you want to this one, hopefully yours will be more faithful.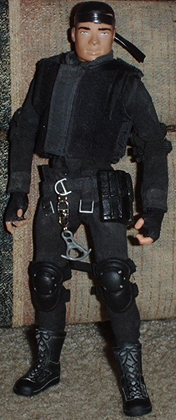 ---
Arab Business Man
This kitbash is on the Gimli figure because it's the only figure I have with a viable beard.
You Need: 21st's Hans suit top and bottom, some kind of shirt, and the scarf from any Desert Storm set, a small black rubberband, and any figure with a beard of proper thickness.
Directions: Put the suit on the figure, fold the scarf into a triangle, and rubberband it to the figure's head.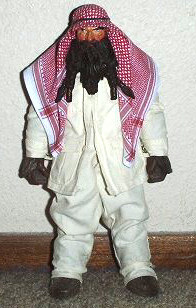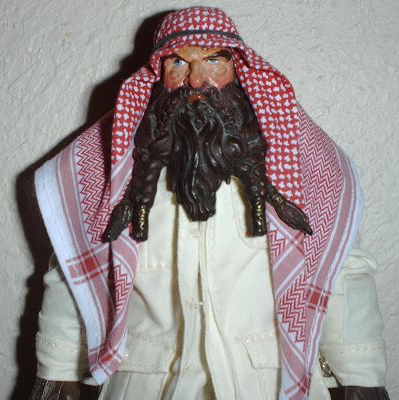 This page updated on 10/10/02